MAME4ALL Alpha 1
Posted by Wraggster @ 02:31 AM CET |
Comments: 0 |
Dreamcast

MAME Emulator for the Dreamcast By Chui, heres his newspost: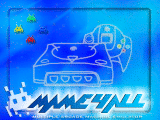 Main changes:

- Hardware video scaled.
- Previous menu for choosing a MAME4ALL.
- New skin by DarkSlain.
- VSync Option.
- Filechache for speed up loading time.
- A lot of minnor fixes.


Also MAMEGP2X 2.3 changes incluided:

- Bugs solved:
Bug in the sound with some games (Bomb Jack, Pinball Action, etc).
Bug with games with I8085 processor (Phoenix runs with sound again).
Screen centering in the not scaled + rotated video mode.

- Some changes by Slaanesh:
New playable games: Robocop, Hippodrome.
Sound improvements: Sly Spy, Midnight Resistance, Dark Seal, Juno First.
Control Improvements: Midnight Resistance, Heavy Barrel, Ikari Warriors, Victory Road, Defender.
Optimizations: Galaga.
Other improvements: Time Pilot, Pooyan, Tutankham, Gyruss.

- Modified romset (MAME 0.35b5): Sly Spy (revision 3) (slyspy)

- Support for 3 new romsets (MAME 0.35b5):
Boulderdash / Boulderdash Part 2 (bouldash), Sly Spy (revision 2) (slyspy2), Gate Of Doom (revision 4) (gatedoma)


Downloads and more info at MAME4ALL Site.






File Releases
No Description in database.
No Description in database.
RxNES is a NES emulator with a difference, taking the enhancement to the ne ...
No Description in database.
No Description in database.


Latest Forum Posts
Last Reply: Nerrel
Replies: 37
Last Reply: Geoz
Replies: 68
Last Reply: The Siskoo
Replies: 0
Last Reply: jjrr1984
Replies: 0
Last Reply: AlighieriWolf
Replies: 26


Latest Reviews
Created by WhiteX
Created by WhiteX
Created by WhiteX
Created by WhiteX
Created by WhiteX


Support Guides
Created by Martin
Created by Martin
Created by WhiteX
Created by Dark Watcher
Created by Dark Watcher


Our Affiliates