Citra progress update video
Posted by LyonHrt @ 10:17 PM CET |
Comments: 1 |
Nintendo 3DS
citra has posted a new video of all the progress that has happened recently.




Thanks to the hard work of many developers, Citra has gotten a lot faster and a lot more accurate. We check out several games with the new and improved Vertex Shader JIT and try some new games that just recently started working.

The Vertex Shader JIT is a way to emulate the 3DS Shaders more efficiently than an interpreter, but in a more accurate way than the GLSL shaders, which were unable to emulate some instructions. The Vertex Shader JIT should not affect compatibility in anyway, making it a mostly free speedup.

In general, there have been a ton of GPU fixes developed since the last update. Fire Emblem Awakening requires a lot of them to get in-game, and more to make it look presentable (though, there are still many bugs to work out.) Majora's Mask 3D is close to playable, but hangs upon creating a new game. Ocarina of Time 3D no longer has the lighting glitches in the Vertex Shader JIT; we're working on figuring out why that fixed it. Super Monkey Ball 3D has some menu objects fixed as well.

While A Link Between Worlds shows the intro, it currently crashes. By the time the Vertex Shader JIT is finalized, this crash will likely be fixed.

There should be more exciting updates coming, so stay tuned!

Some of the small screen footage desynced during editing. It shouldn't matter too much, but just noting that we're aware of it!

NOTE: Source footage was recorded on two different computers. As speed varies between computer, it's important to note as a baseline that most of the footage was recorded on a Core i5 3570K processor. Fire Emblem Awakening was recorded on an i5 4670K. Faster processors will run these titles faster, slower ones will run it slower. The footage also takes advantage of unmerged features that are still being reviewed.



Source: youtube

video in comments
citra progress Etrian Mystery Dungeon video
Posted by LyonHrt @ 02:25 PM CET |
Comments: 1 |
Nintendo 3DS
New week and a new video for citra the open source 3DS emulator.
This time they've posted a new video of Etrian Mystery Dungeon, and showcases the Tutorial Dungeon in Citra.




We play through the tutorial on Citra, fighting against unfamiliar, unintuitive keyboard controls. The game on its own looks great in Citra; this is definitely one to watch for very early on.

Citra still has no audio emulation, so the music is borrowed from Etrian Odyssey 2. If you're interested in the track, it's from the Forbidden Woods Labyrinth.



source
youtube.

Video in comments.
Citra progress, rollercoaster tycoon 3d video
Posted by LyonHrt @ 05:05 PM CET |
Comments: 1 |
Nintendo 3DS
New progress today from the citra team, in the form of a new video.

This time for the game rollercoaster tycoon 3D.


| | |
| --- | --- |
| | Ever wanted to play Rollercoaster Tycoon with harsh limits on the number of rollercoasters (3 per park!) and any other attractions? Rollercoaster Tycoon 3D actually runs fairly well on Citra, with only some minor zfighting issues on the OpenGL renderer. The game ran fast compared to other titles and this is only sped up by 4x from the actual speed it was running in game. |


source youtube

Also from twitter, some nice new shots of majoras mask running, from bunneis twitter page.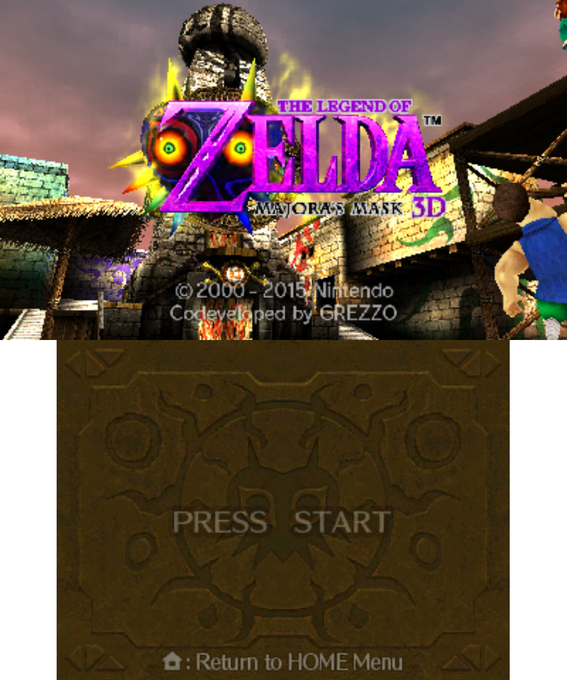 video in comments
3DS Citra emulator progress news
Posted by LyonHrt @ 01:40 PM CET |
Comments: 5 |
Nintendo 3DS
Ahh, the 3DS emulator citra continues to progress in leaps and bounds, with major progress happening in github almost daily, so it's not a supprise to see more games becoming playable, although still lacking sound.

One such game Super Monkey Ball 3D, recently showcased on their youtube channel today:




his is World 1 of Super Monkey Ball 3D played through in Citra. The music was lifted from the original Super Monkey Ball as Citra does not emulate 3DS sound yet.

Footage is accelerated to appear near full speed; this uses the software renderer and interpreter of Citra. Realtime, it was running between 1 FPS and 5 FPS on a Core i5 3570K. There seem to be a few minor emulation glitches, but the game seems playable overall!



Source here.

Video in comments.
Citra now has opengl renderer.
Posted by LyonHrt @ 09:54 PM CET |
Comments: 7 |
Nintendo 3DS
Citra the open source 3DS emulator has now reached interesting progress with the addition of having an opengl renderer.
And has posted a new video or Orcarina of time 3D running near full speed on citra.




This footage has not been sped up; it's actually running around, or even faster than, full speed most of the time! There are a lot of OpenGL specific bugs, but they'll be worked out in time. Credit to the hardware renderer goes to https://github.com/tfarley

In it's current state the OpenGL renderer isn't currently planned to be merged into master, but it goes to show how much of a speedup there will be when one is finished.



source : youtube.

Video in comments.
Friday, February 27, 2015
Citra Virtual Console Showcase
Posted by LyonHrt @ 11:38 AM CET |
Comments: 1 |
Nintendo 3DS
The citra team have posted a new video showing virtual console games being played on citra the open source 3DS emulator.


| | |
| --- | --- |
| | Did you know that Citra could boot 3DS Virtual Console titles? Neither did we! After figuring it out, we had to get some footage. Unlike previous videos the footage here is not accelerating it, you're seeing it as it was played. |


View the video here
Sunday, February 01, 2015
Citra progress
Posted by LyonHrt @ 10:51 PM CET |
Comments: 4 |
Nintendo 3DS
Citra the Nintendo 3DS emulator has made alot of progress lately, and has posted a video of it playing Cave story in game on youtube.



With tons of changes over the past month, Citra is now booting several games! While it's still slow (Citra is running a software renderer and CPU interpreter) the game appears to be fully playable and even completable! Feel free to check out our official website at http://citra-emu.org/

Citra currently does not attempt to emulate sound, so music has been added to the video.


See the vid here.
Thursday, January 27, 2011
Nintendo 3DS anti-piracy tech strong
Posted by Wraggster @ 01:09 AM CET |
Comments: 0 |
Nintendo 3DS
Heres some news from Eurogamer




The 3DS will resist piracy better than any other console Nintendo has created.

Nintendo believes the R4 cart problem that dogged the DS in recent years is well and truly behind it as anti-piracy measures take hold.

"I think perhaps there's been a 'heyday of piracy' and we've now seen a lot of rules come in to stop it," Nintendo UK's product manager James Honeywell told CVG.

"There's definitely a step change coming and you see it in various countries around the world. People are aware that video games, music and movies make massive contributions to the economies of countries. They need to make sure they start protecting those things."

In July last year the High Court banned the sale of R4 cartridges in the UK. The case concerned the Copyright Designs and Patents Act 1998, and Nintendo's claim that games were copied into the random access memory of the DS in the course of using the devices.

"Recently there's been some quite significant cases where there were some grey areas as far as IP protection goes," UK general manager David Yarnton said.

"Recently there have been a couple of rulings with R4s where people have been found guilty and had quite significant sentences against them.

"This now makes a precedent that potentially in the future it won't be a viable thing for people to do.

"We can't divulge any technical details on that but needless to say this is probably one of our best pieces of equipment in that respect.

"There are a lot of things we've learnt over time to try and improve the security and protection - not only of our IP but of our third-party publishers' IP as well."

Yesterday UKIE claimed for every one game sold at retail four are pirated. People who play illegal copies of videogames on chipped or modified consoles, UKIE said, cost at least £1.45 billion in lost sales in 2010.



Lets hope the console is hacked for emulation, imagine 3D Snes emulation :)

File Releases
No Description in database.
No Description in database.
No Description in database.
No Description in database.
No Description in database.


Latest Forum Posts
Last Reply: samll
Replies: 2
Last Reply: winter_mute
Replies: 0
Last Reply: OtisGotIt
Replies: 12
Last Reply: Robbbert
Replies: 0
Last Reply: spotanjo3
Replies: 2


Latest Reviews
Created by WhiteX
Created by WhiteX
Created by WhiteX
Created by WhiteX
Created by WhiteX


Support Guides
Created by Martin
Created by Martin
Created by WhiteX
Created by Dark Watcher
Created by Dark Watcher


Our Affiliates